Key Dates:
Early Registration Deadline:
August 15, 2019
Standard Registration Deadline:
September 4, 2019
Late/Onsite Registration Deadline:
from September 4, 2019
Accommodation Deadline:
August 11, 2019
Contact Details
IEEE 2018 Wireless Interim Meeting Managers
MTG Events Pty Ltd
address
Sydney, Australia
P: +61 2 9057 9072
802wireless@mtgevents.com.au
General Information and Useful Tips
Travelling from Hanoi Airport to the JW Marriott
The quickest way to get from Hanoi Airport (HAN) to JW Marriott Hotel Hanoi is to taxi which costs $19 – $24 and takes 23 min.   The distance between Hanoi Airport (HAN) and JW Marriott Hotel Hanoi is approx 23 km.
Vaccinations
As a guide Diphtheria, Hepatitis A, Typhoid and Tetanus are strongly recommended.  You should seek medical advice before travelling to Vietnam from your local health practitioner and ensure that you receive all the appropriate vaccinations.
Is it safe to drink tap water?
No, it is not considered safe as tap water in Vietnam is often contaminated.  Bottled water is cheap and readily available from shops, hotels and restaurants across the country.  Always check that the seal on the bottle cap is intact.
Basic Phrases:
Although English is the second language in Vietnam, not everyone can speak English. Thus, mastering these basic Vietnamese phrases will help you have a fulfilling trip to Vietnam. In fact, Vietnamese people are very friendly and the locals love it if they hear these phrases from you, even if they aren't pronounced perfectly. In some cases, they might even give you discounts if you can say these basic Vietnamese phrases!
Hello

 

= Xin Chao (Sin chow)

How are you? = Ban Khoe Khong (Ban Kwe Khom)
I'm fine, thank you! = Cam on ban toi khoe (gahm un ban thoy kwe)
Thank you = Cam on (kahm uhn)
You're welcome = Khong co' gi (khom go zee)
Yes = Vang (vung)
No = Khong (khome)
Sorry = Xin Loi (Sin Loy)
No Problem = Khong co gi (Khong koh zi)
Goodbye = Tam Biet (Tarm Byeet)
No, Thank You! = Khong! Cam On (Khom, kahm uhn)
Can you speak English? = Ban noi tieng anh duoc khong? (Banh noi thien an durkh khom)
Numbers:
1

 

= Mot (mobh)

2 = Hai
3 = ba
4 = bon (Bumh)
5 = Nam
6 = Sau
7 = Bay
8 = Tam
9 = Chin
10 = Muoi
Expected Weather during September:
In Hanoi the month of September experiences daily highs of 30°C (86°F), rarely falling below 27°C (80°F) or exceeding 34°C (93°F).  Daily low temperatures average at 25°C (77°F),  rarely falling below 21°C (70°F) or exceeding 27°C (80°F).
A wet day is one with at least 1 mm (0.04 inches) of liquid or liquid-equivalent precipitation. In Hanoi, the chance of a wet day over the course of September is very rapidly decreasing, starting the month at 53% and ending it at 32%. 
Religion:
Long-established religions in Vietnam include the Vietnamese folk religion, which has been historically structured by the doctrines of Confucianism and Taoism from China, as well as a strong tradition of Buddhism (called the three teachings or tam giáo).
Tipping:
Tipping is generally not expected in Vietnam though with low wages, any tips are greatly appreciated.  Many upmarket restaurants will add a service charge to the bill between 5-10% and it's always nice to tip cleaning staff at hotels if you've stayed more than a couple of nights. Taxi drivers do not expect tips but it's customary to round up the amount due. When visiting pagodas it's polite to leave a small donation, especially if you have been shown around by a resident monk.
Currency:
Vietnamese Dong (VND)
Population:
+/- 97 Million (Vietnam)
+/- 8 Million (Hanoi)

Telephone:
Country code : 84 (To call Vietnam) Outgoing international code : 00 (To call abroad from Vietnam)
Language:
Vietnamese

Borders:
Vietnam borders China in the north, long border with Laos and Cambodia in the southwest.  Vietnam shares maritime borders with Indonesia, Malaysia, the Philippines and Thailand.

Power sockets and plugs: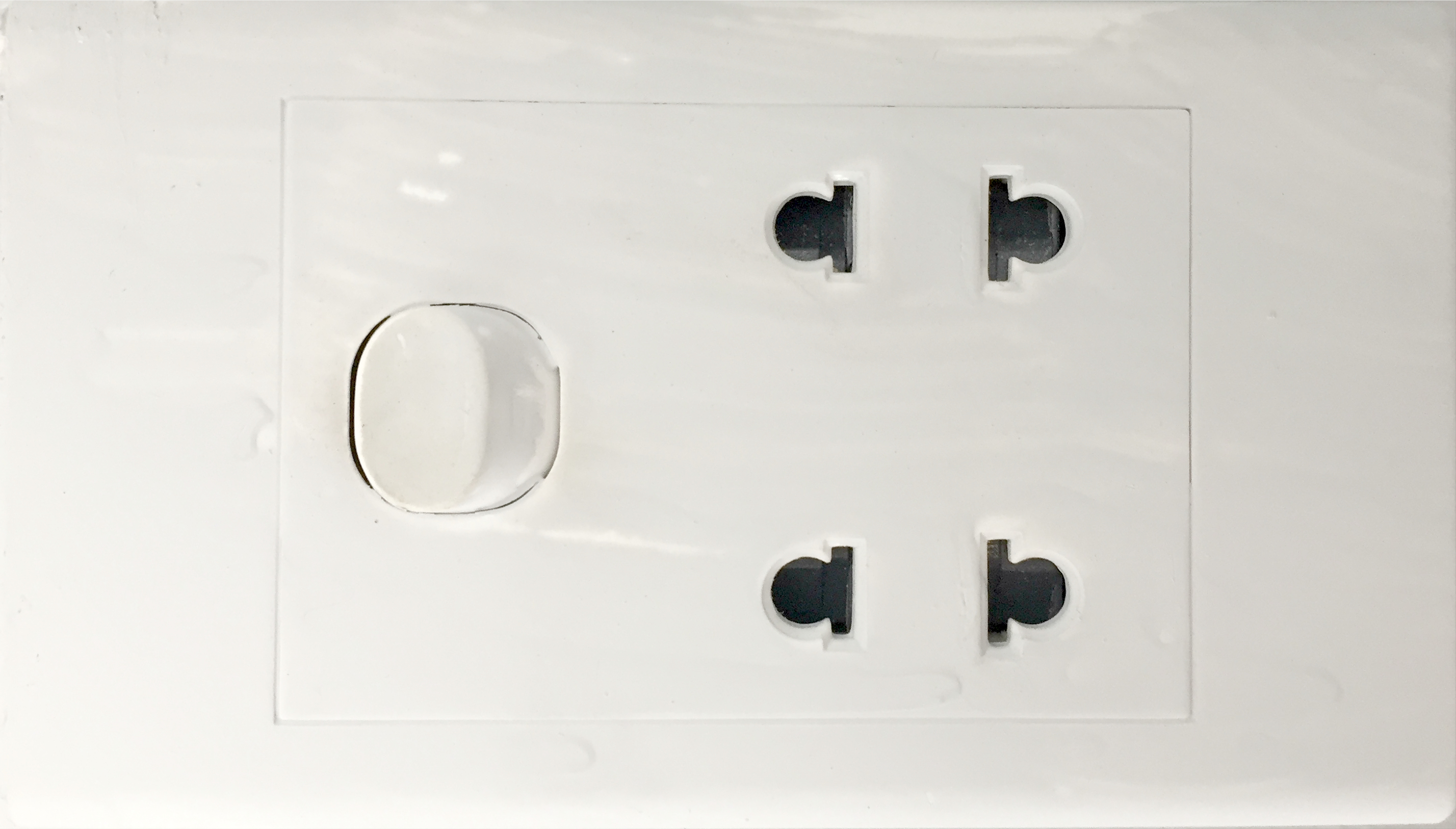 A typical Vietnam electrical outlet
Type A, C & D: In short, plugs type A (two flat vertical pins), type C and type F (two round pins) fit to most Vietnam electrical outlets.  If your power plug has 3 pins, you might need an adapter as most electrical outlets here do not include a grounding hole.
Voltage: 220 V
Frequency: 50 Hz